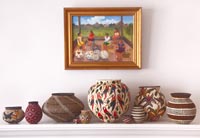 Wounaan baskets on mantelpiece
With much pride in their skills, and the urgent need to make a living, the Wounaan and Embera weavers evolved and improved their basket weaving technique quickly. Through about 50 years of trying to be the best basket weavers in the world, the baskets evolved from utilitarian, to crude baskets that were souvenirs for tourists, to the very finest baskets collected by art connoisseurs.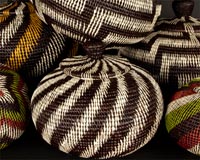 Remake of primitive Wounaan baskets with colors
The crude baskets from the earliest days have fewer than 10 stitches per square inch. Now, the average stitch count of a Wounaan Basket is about 300. Those with 400 to 500 are considered fine baskets. Some exceptional baskets have up to 1,000 stitches per square inch. A small number have attained an amazing 1,200 stitches per square inch.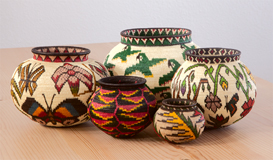 Mix of Wounaan baskets
Our recommendation is to choose the one which speaks to you.Never mind about the stitch count, the color you originally wanted to match your home decor, or the shape... we've often seen people happily surprised by the basket they selected.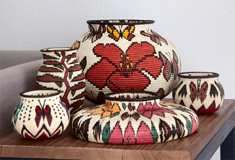 Group of Wounaan baskets with an unusual shape
As to choosing a basket for a gift, that is a little trickier. It depends on how well you know the person. We understand this, therefore we offer an exchange policy. If you or your lucky friends who received the gift are not happy with the purchase, you can exchange it for any basket on the website with the same or greater value. However, please let us know by email within 3 days of receipt of the basket.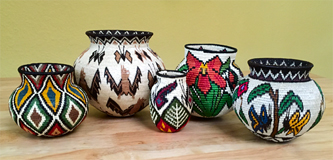 Mix of Wounaan baskets
Happy choices! If you have any questions, please feel free to contact us.